Operation Red Sleigh Down
THE GRINCHINATOR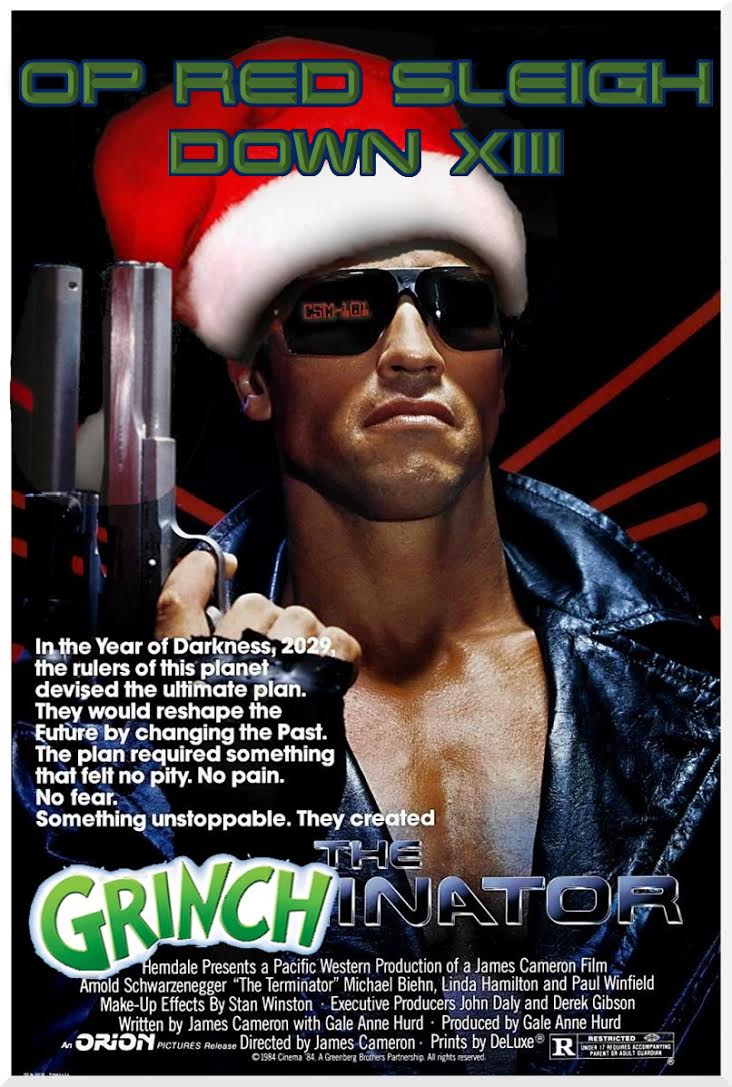 Desert Hawks Airsoft is proud to present the 13th annual Operation Red Sleigh Down on Saturday, December 16th 2017. Operation Red Sleigh Down is a benefit game that raises awareness about children in need this holiday season. Near the holiday season each year, we gather to play an organized airsoft event and fill a car with new unwrapped toys and then donate those toys to the USMC Toys For Tots program. Please consider coming out, helping those in need, and having a good time with us while you are at it.
To see what the community was able to donate in previous years visit the below link:
Toys 1 - RSD 2016
Toys 2 - RSD 2016
Marines - RSD 2016
Scenario:
Welcome to the 2017 annual Toys of Tots charity drive "Red Sleigh Down" this year is 'THE GRINCHINATOR'.

In the year 2029, a computer called KrampusNet is fighting against a human resistance, after having nearly destroyed Christmas in 1997. KrampusNet has found a way to send some of its warriors, called Grinches, back in time. This is the story of the Grenchinator sent back through time to 1984 to steal Christmas… and kill the resistance leader's mother the seemingly innocent Sarah Nicholas-a woman whose unborn son will lead the human race to victory in a bitter future war with a race of machines. Sarah's only hope is a soldier sent by the resistance named Charlie Brown from that post-apocalyptic war, who has chased the Terminator back through time to 1984. The question is, can Sarah Nicholas survive long enough to have her child? If the The Grinchinator succeeds, mankind is doomed. The future of Christmas depends on which one finds her first... Or winning a battlefield style airsoft game at Sasco.

...yeah it doesn't make sense to us either, just go with it because its going to be fun… and bring a toy.
Admission
This event is by admission only. Your admission is unwrapped toys with an equal or greater value of
$10
. Cash donations are
discouraged
, but if you forget your items a suggested cash donation of
$15
will allow the staff to purchase items in your behalf when dropping the donations off.
For more information on the Toys For Tots Program please visit their website:
http://www.toysfortots.org/
Where:
SASCO
Sasco outside of Red Rock AZ
When:
December 16th 2017
Show@ 0700
Chrono@ 0715
Briefing@ 0745
Guns up@ 0800
Rules
General Rules:
Everyone MUST Read
Special Note
Radios are not required for this event, but are
HIGHLY
recommended due to how the objectives are spread out and the play is fluid. Mid cap magazines are encouraged but high cap magazines are allowed to be as inclusive as possible to all level of players. Please also note this event is being planned as a MILSIM
Battlefield
type event with a fun twist. This means that we expect limited return trips to cars and staging areas. There will not be long breaks at any time once we are underway, and we will not be breaking for a meal. Please be prepared to carry everything on your person that you need to play and stay on your feet, including plenty of water, spare batteries, and extra ammunition.
As has been the case for a few years now this will be a classic Battlefield style capture the flag event held at Sasco. We are looking to add additional flags this year to mix it up as well. Additionally, to get you all in the Christmas spirit at the start of the event admin will award a few bonus points for both sides for bringing and using a Red Santa hat as a death rag!
RSVPS
Please RSVP by name only (No +##
Ex. quadro +1
) or RSVP to the event post on facebook. If others are coming and you are their primary form of contact with the forum please list a name for them. For example, Kileyhaz & ChanceR is preferable to Me +1. Thanks.
Teams:
GRINCHINATOR FORCES (GREEN):
(Includes ACU, ATACS and ABU in addition to the usual Woodland and Tiger Stripe)
RESISTANCE FORCES (TAN):
(Includes Multicam* in addition to the usual Desert patterns. *Multicam should be prepared to be shuffled/divided as needed to make numbers work evenly)
*RSVP can also be done on the Facebook event invite
_________________
"If everyone is thinking alike, someone isn't thinking"